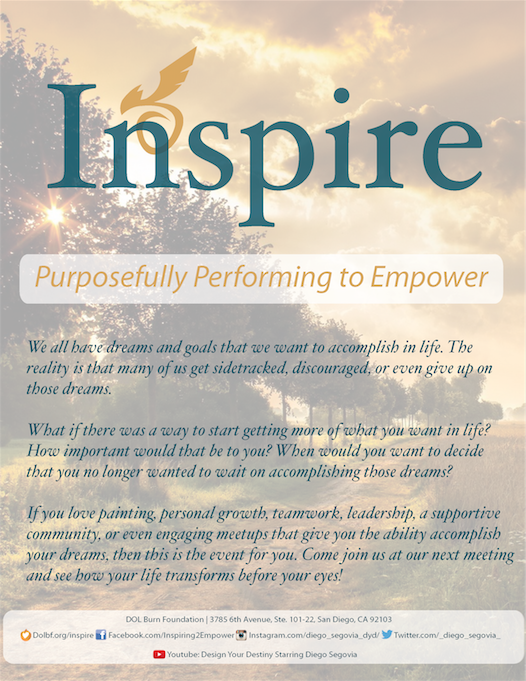 ---
ABOUT
---
We all have dreams and goals that we want to accomplish in life. The reality is that many of us get sidetracked, discouraged, or even give up on those dreams.
What if there was a way to start getting more of what you want in life? How important would that be to you? When would you want to decide
that you no longer wanted to wait on accomplishing those dreams?
If you love painting, personal growth, teamwork, leadership, a supportive community, or even engaging meetups that give you the ability accomplish your dreams, then this is the event for you. Come join us at our next meeting and see how your life transforms before your eyes!
---
OUTCOME OF SUPPORTING EVENT
---
Surround yourself in a supportive environment that helps you attain more of what you want in life

Become inspired to turn turn challenging times into opportunities

Be part of workshop that will provide you the tools to transform your relationships, career, and dreams

Express yourself through art to not only help you understand where you are, but guide you to where you want to go
---
EVENT SPECIFICS

---
General Agenda
3:00 – 3:30 Networking & Reception
3:30 – 3:45 Speech
3:45 – 4:15 Workshop
4:15 – 4:30 Break
4:30 – 6:30 Painting
6:30 – 6:35 Closing Remarks
6:35- 7:00 Networking & Clean Up
Attire:
---
HOW YOU CAN HELP
---
Purchase your ticket and RSVP

SHARE with friends and family


Apply these tools to your life and start living the life you deserve
---
FOLLOW US FOR MORE
---